Yesterday's marathon is the last marathon I plan to run…EVER!
("Yeah right, until the next one" I hear Warren say behind me).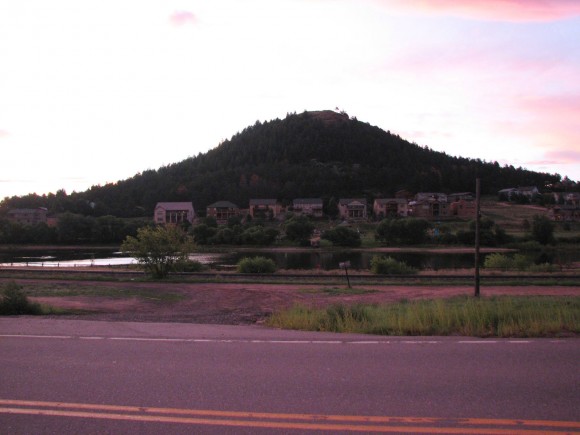 I carbo-loaded last night and went to bed on a full stomach.  The day started out nice and cool. We woke up at 5 am, I had my bowl of oatmeal and a bag of sports jelly beans, got the boys out of bed and we all set off to Palmer Lake which took 40 minutes.
I had on my race bib (the paper thing you wear on your shirt) – 113 was my race number (13 is my favorite number, my birth date) – so I felt good, ready and excited.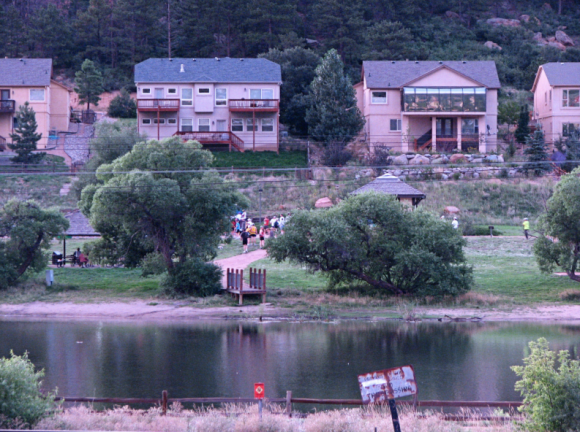 The race was due to start at 6:30 am but was delayed because a bus carrying 100 runners didn't leave Colorado Springs (the finish) on time so the race started at 7 am instead.
Delaying the start of a race isn't the best for runners. That means we get 'antsy' and 'jittery', we stretch the legs way too many times & visit the stinky porta-potties even if we really don't need to 'go' in order to pass the time.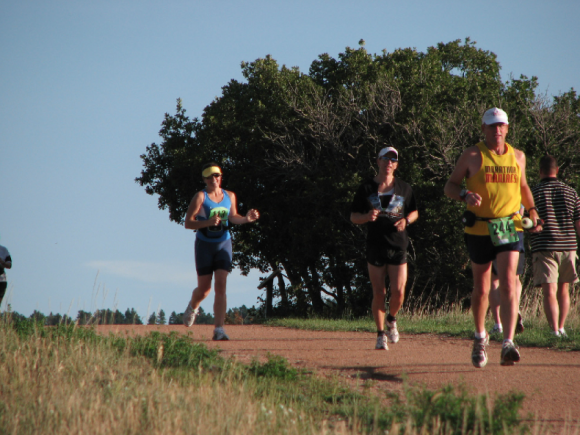 And then the gun fired and we were off.  I always start out a race too quickly – I think its because of the adrenalin and the excitement I feel running with others who have a similar goal in mind…which is to finish well.
About a 1/4 mile into the race I forced myself to slow down and got into a comfortable pace. I wanted to beat my 4:47 time by 2 minutes so I ran with a 4:30 pacer for a while.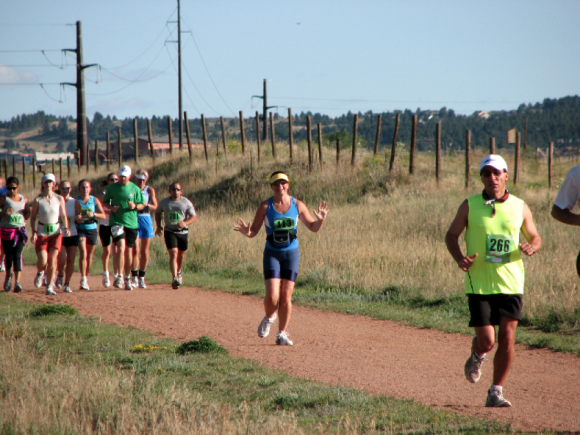 Pacer 4:30 in green shirt behind me with Midget Man in Gray to his left.
I felt really comfortable and got ahead of him and his followers for another 8 miles. The pacer was wearing a watch that chimed every time he slowed down or was going too fast so as soon as I heard him behind me, I picked up my pace to stay ahead of him.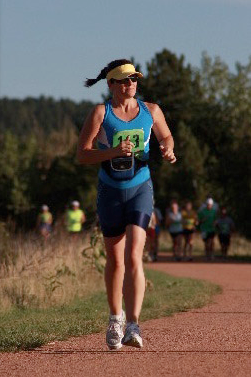 By mile 9 he'd caught me and I ran with the pack for another 1/4 mile before they started to edge away from me.
I 'hit the wall' around mile 10 (too early in the race!!) and saw my goal time run off into the distance. I figured I could still get my coveted 4:45 time if I kept between the 4:30 pacer and the 5:00 pacer. By mile 17, the 5:00 pacer had passed me and I knew that I'd lost my goal.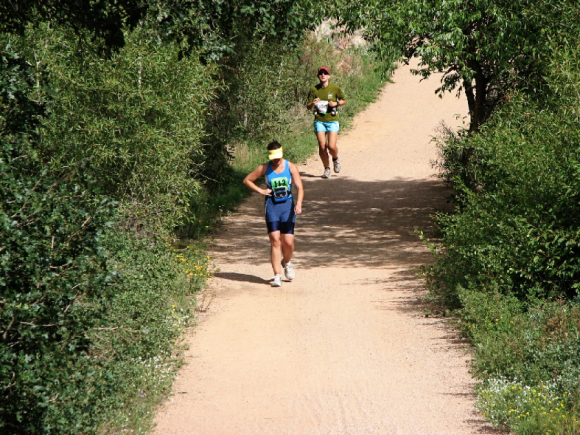 I had terrible gas right below my diaphragm – I guess it was caused by the 2 large glasses of Diet Coke I'd had the night before. Stupid me! I was able to get rid of some of the gas (I'll leave you to guess how) but there was a bubble that refused to move and got stuck just under the diaphragm. Warren told me about a technique of keeping the O2 inside for as long as possible before exhaling and the exhale needs to be a long, slow one. So I concentrated on doing that for most of the way.
Between mile 10 and 17, I struggled with pain my calves & the back of my thighs – nothing like I'd experienced in training. It felt like my calves & thighs were depleted of energy even though I'd been eating my sports jelly beans and drinking my GU (nasty stuff) which is meant to fuel the muscles within 20 minutes of consumption. I was between a rock and a hard place – when I stopped to walk my legs hurt like mad; when I ran, the gas hurt like crazy. So I alternated between running and walking and lost a lot of time because of it.
By mile 18 my legs started to feel better and I was able to concentrate on breathing as though I was in labor. That kept my mind off the mileage. Each mile seemed to get longer and longer but by mile 20 I had my 2nd breath and managed to run most of the way to the finish line. I ran passed a few men younger and older than me who cheered me on so I felt good that I was beating them.
To keep focused I had a strategy of overtaking various people during the race. There was White Shirt Girl – we went back and forth for most of the marathon – she'd overtake me and I'd overtake her 2 miles later. But I beat her to the finish line. There was Black Hair Lady (black dyed hair), Midget Man In Gray (a short stubby man), Pale Blue Lady (dressed in all blue), Hairy Shoulders (gray hair sprouting like weeds on his shoulders), Dime-Sized Wart (he had a wart on the back of his left knee the size of a 10c coin) all of whom I overtook during the race but they all managed to beat me in the end.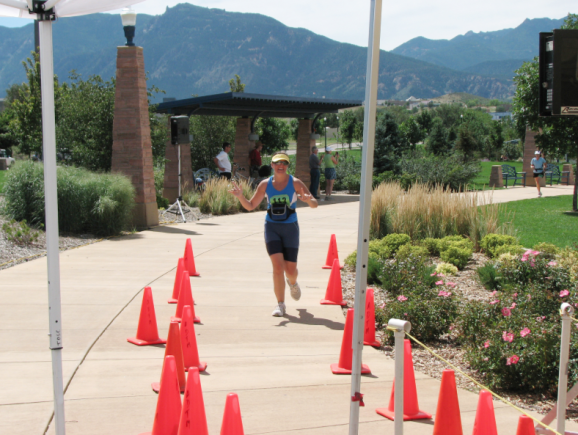 When you're 206 out of 246 there isn't much of a crowd to cheer you on to the finish line but my name was called out over the loudspeaker for everyone to hear when I crossed the line. I came in just under an hour later than I'd hoped for (5:37) but I finished!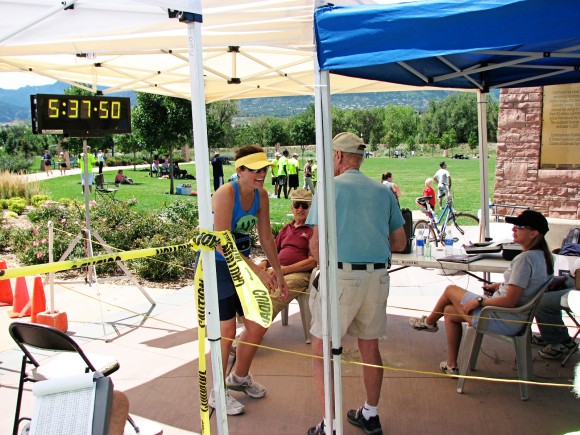 Heading towards the finish line. Finished!!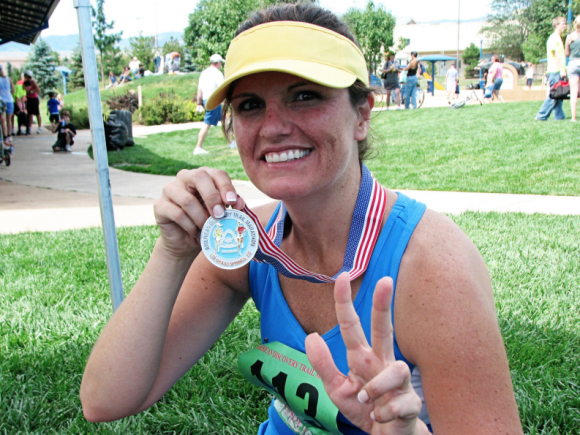 My 3 guys were there cheering me on throughout the race at various places along the way, and at the finish line. They were fantastic cheerleaders and I couldn't have done it without their support!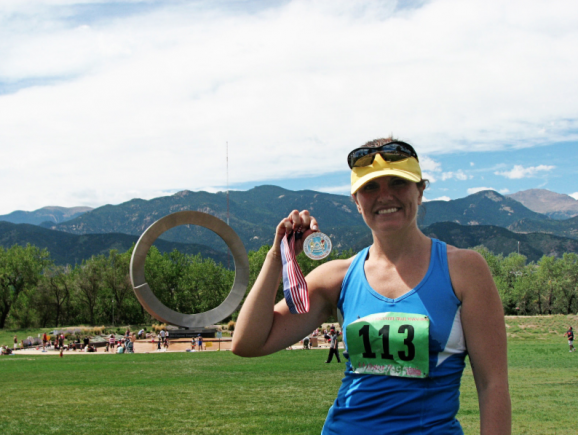 When I got home after the race, I took a long warm bath (they say to have an ice bath – yeah right!) and then crashed for 2 hours on my bed. My legs were sore yesterday but not as bad as they are today.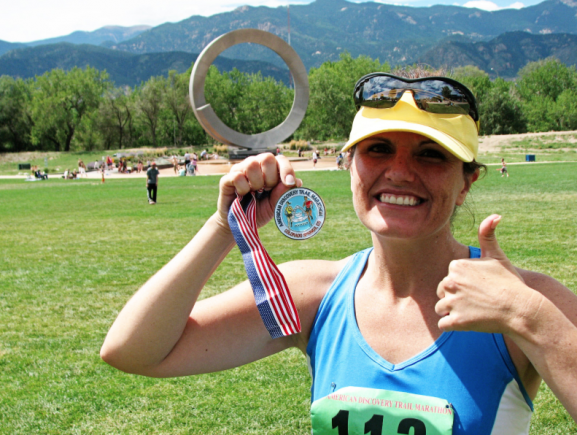 Today I can hardly walk. My calves are fine but it feels like I've given birth through my thigh muscles! I can't go up and down stairs without looking like an 80-yr old arthritic woman attempting stairs on her own. Every time I get up from a chair, I wince in pain but I have to keep moving so my legs heal.
Hopefully by Friday I'll be walking normally again.So that's it – no more marathons for this old lady. I've achieved my goal of running another marathon before my 40th birthday (in 12 days time – send presents!).
I've retired my new expensive running shoes and hope to have warm thoughts about this experience soon.