His first performance at school and I got to miss work to go & see it! The Kindergarten Thanksgiving Program was all of 10 mins. Cullen was picked to be an Indian, much to his and my relief. He wouldn't have taken to being a pilgrim for his 10 mins of fame. He was a very good little indian with homemade top and indian feather 'hat'.
I arrived at the school with 10 min to spare before the program started. I raced to 2nd grade to grab Jordan out of his classroom and we ran to the gym to get a good seat. Unfortunately, most of the parents must have arrived an hour ahead of time to secure their spot on the gym floor in order watch their darling babies sing in their first program/ They were all seated with cameras poised and ready. Jordan and I sat down behind a group of mothers who were checking their cameras, testing the lighting and chatting excitedly to each other.
Then the group of Kindergartners walked single-file into the gym and cameras started snapping and whirling. Cullen was one of the last to come through the gym doors and kept looking for me in the crowd. Both Jordan and I became one of the crazies and stood up, waving like frantic aircraft controllers for him to notice us…and he finally did. The kids went up on stage and behind the large red curtain for a while and then it peeled back and revealed the 75+ Kindergartners on risers. Cameras snapped and whirled as each precious song was sung.
I had to move to the back of the frenzied crowd because most of the seated moms went up on their knees and I couldn't see a thing. Then of course Cullen didn't know where Jordan and I were so we did our aircraft controller act and he finally saw us and smiled. As soon as the program was over, Jordan dashed off to his classroom and the Kindergartners were stuck on stage for another 5 min while the Parent Paparazzi clicked away at their little Kindergarten celebrity.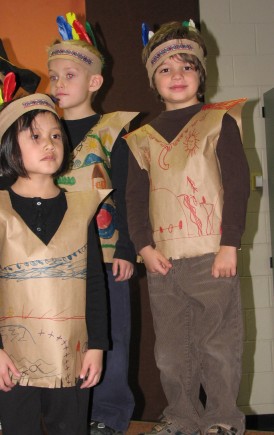 I managed to push through the crowd to get close enough to the stage to get a single photo of Cullen before the large red curtain swallowed up the children.
Then the parents lined up in the gym to get one final shot of their Kindergartner celebrity walking out. I must admit that I was one of those parents, knowing that Cullen would be worried if he didn't see me.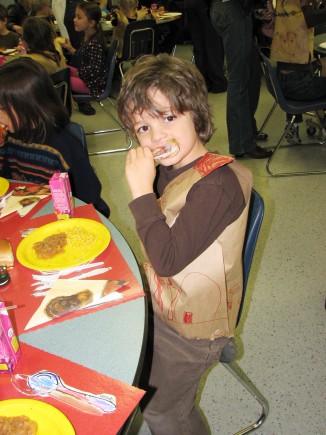 Once the group of celebrities had left the building, I found my Kindergartner celebrity in the cafeteria munching down chicken legs, rolls, corn and apple sauce – a sweet attempt at a Thanksgiving meal.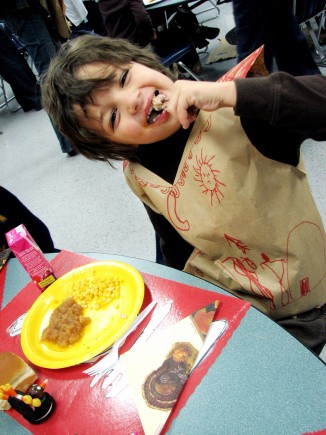 The day before I had helped the kids make applesauce – I had cored and peeled apples with a small army of moms before we called each kid out of their class to cut the apples. The apples were put into crock pots and cooked for a few hours with sugar and cinnamon.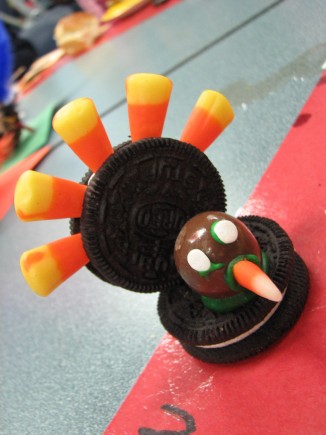 One of the moms had made a fun turkey out of Oreo cookies, a malt ball & candy corn.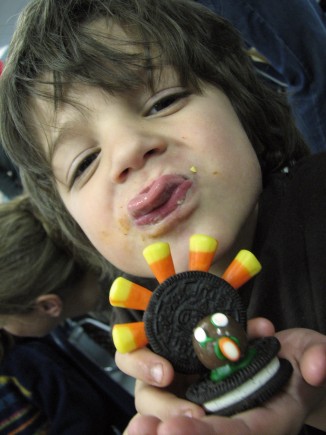 The kids had also made turkeys using a pine cone and feathers.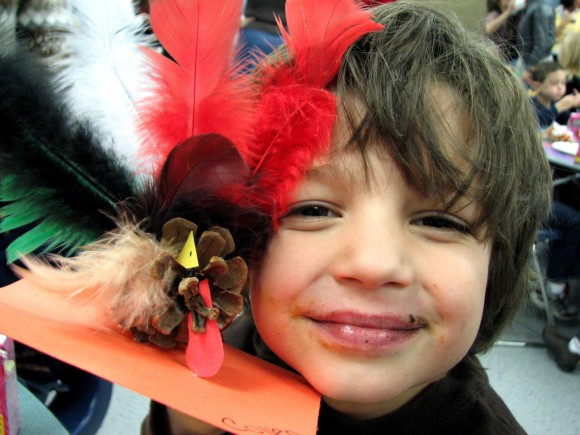 It was a fun time for the kids and I am glad I didn't miss it.