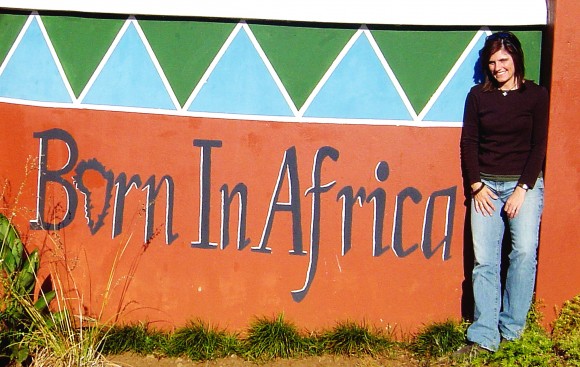 Howzit!  I'm Traci Lotter and I am a legal alien with papers to prove it.  I am also a wannabe singer, writer, artist, gourmet chef, race car driver, flight attendant, wedding planner, B&B proprietor and owner of a farm in South Africa.  I am a coffee addict and chocoholic.  If one day I lose the ability to eat, I will snort or shoot chocolate.  I love it.  I have to have it.
I'm from a place where my last name (surname) is pronounced 'Lotta'.  I am wife to Warren and mother to 2 rambunctious boys Jordan and Cullen, without whom my life would be very quiet and boring.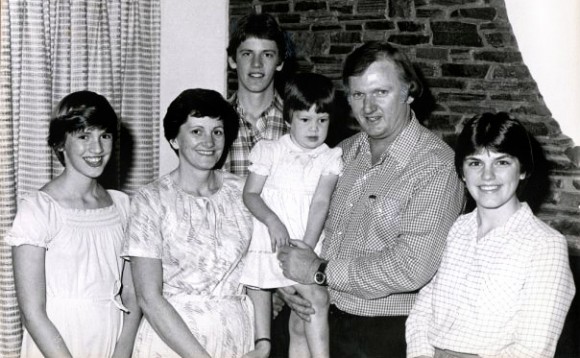 I am the 2nd of four and grew up in a Baptist minister's home in South Africa.  This is what a minister's family looks like.  I'm the dork on the right.  Our family moved every few years to a new congregation and therefore a new part of the country.  I loved it.  It was always an adventure.  We had 2 pets growing up – a zebra named Stripes and a hyena named Smiles.  OK, I lied.  We had a cat named Plank and a dog named Muffin.  The wild animals were a good few hours' drive from our house, safe and sound in one of the many safari parks.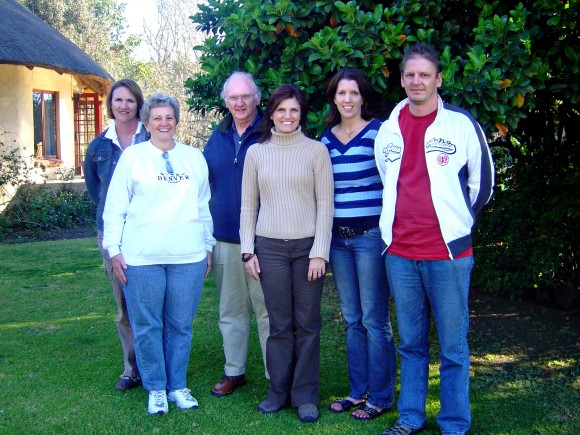 This is a more recent photo of us all taken when I went back to South Africa for a family reunion.  I'm the eldest of the 3 girls but the shortest.  Why is that?
The little girl my dad was holding in the B&W photo above is now the long ostrich standing next to me.  PS: "Ostrich" is one of her nicknames.  She's very artistic and is involved with multi-media and post-production.  I want her job.
My other sister owns her own business and is very successful.  She also has a huge heart and is very generous.  Her nickname is "Charlie".  She has great taste in jewelry and furniture.  I covet her stuff.
My brother is all about sports and is a buyer of sports equipment.  At least that's what I think he does.  He doesn't like having his picture taken.  He was in the South African army and was spared death and serious injury during the Angolan War.  I am grateful for that.
My mom's nickname is "SQ" which is short for 2 things:  "Suggestion Queen" and "Supreme Quilter".  She'll quilt your underwear if she finds them lying around.  She also has a Phd in making suggestions.  She is the glue that holds our family together.
My dad is known as "Elephant Man" because of 3 things:  he has a big nose, he has no bum and he has big ears.  He also loves elephants.  My dad is now a missionary to black pastors in neighboring African countries.
I was a good kid growing up and kept out of trouble for the most part.  But now I'm making up for lost time – just kidding – unless you call the occasional glass of wine, regular consumption of Mikes hard lemonade, 2 permanent tattoos and smoking a cigar in the Florida Keys rebellious (my mom does!)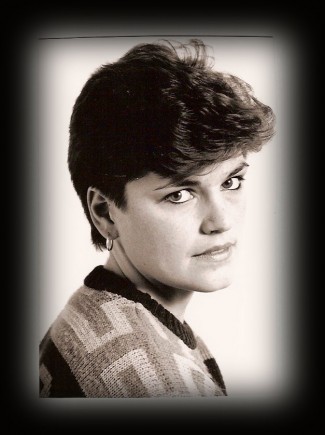 I had no idea what I wanted to do after high school so I took a secretarial course because 'you can always fall back on that.'  I hated it.  I worked as a data capture clerk at the University of Cape Town.  I liked it.   When I was 20 my dad was asked to be the senior pastor of another church and I decided to move with my parents to the 'city of gold', Johannesburg.  I attempted a few things before landing a job as a programmer at South African Airways.  I enjoyed the free flights more than I enjoyed the programming.
Restless with my desire to become a singer, I applied to a university in Texas and was in the process of that application when Warren walked into my life.  Its a rather elaborate story which I will one day write about.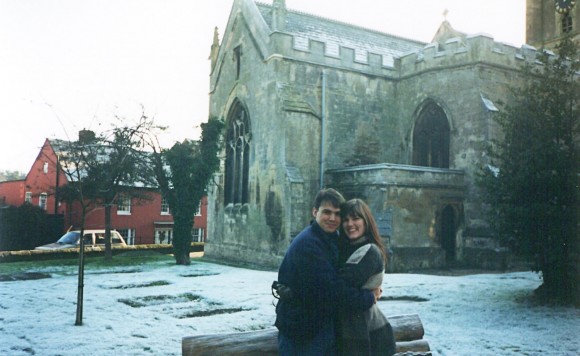 Soon we were married and off to England, intending to stay for 2 years.  We stayed for five.  I was a programmer for a company that relocated Warren and I to Colorado in 1999 and a year later I gave birth to my firstborn.  We have been here ever since.  I'm now a stay-at-home-mom and Warren is working for a popular dog toy company.  No more free flights but we did fly the Concorde before it went out of service.  Seriously, we did.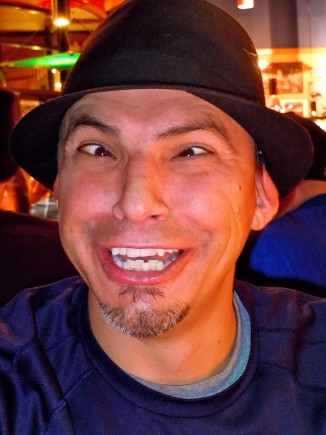 My husband is a one-of-a-kind crazy nut who is not only very bright but is very funny.  He is my soulmate, best friend, confidante, and funny bone.  He surprises me with very long words that cause me run to Google to get a definition, explanation, and simple example.  He can also tear something apart (car engine, lawn-mower, fireplace, firearm) and put it all back again without a single screw, nut or bolt left over.  I don't know how he does that.  He was once in the South African army and I love a man in uniform.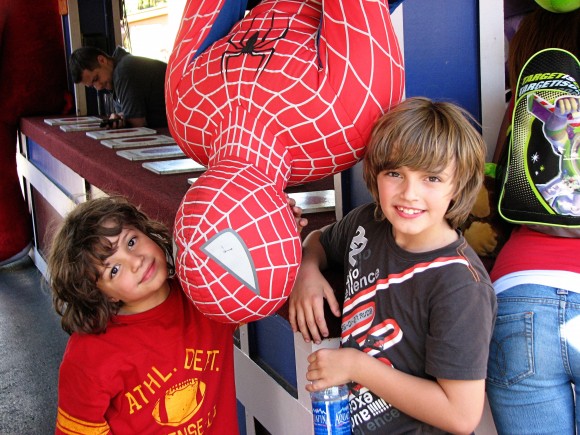 These guys are my African Americans.  Do the math:  born to Africans + born in America = true African Americans.  When they aren't fighting with each other, I actually enjoy them.  They are only 20 months apart and I'm hoping they become best friends in later years.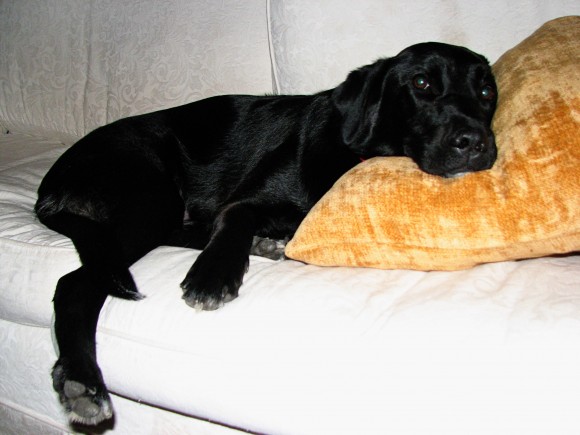 We also have a dog who was named after a very fierce and ferocious African tribe.  She is anything but!  Zulu is a very sweet dog but a big wuss.  She's our lemon and we'll keep her.
For years I blogged on Blogger which kept my family's computers from hating me.  No more endless downloading of photos and newsy emails. No more clogged up bandwidths and frustrated IP servers.  More recently I moved to WordPress to expand my blogging horizons.
So this is my blog…for what its worth.
In LottaLIFE, I have stories of our home-life which include my husband, the 2 humans from my womb and any family members or friends that come to visit.
In LottaFOOD, I share the dishes I cook.  I love food and haven't met a carb I don't like.  My butt & thighs are witness to that.  Some of my recipes are typical South African recipes.
In LottaCREATE, I have photos of things we create – be it art, food, DIY home projects, crafts or mud pies in our backyard.  I love to create.  Its my outlet.  I start to shrivel when I don't create.
In LottaTRAVEL, I share places we've traveled to.  It may be the park down the road or a safari park in South Africa.  Any place that takes me a few yards from my front door is considered 'travel' in my mind.  My skin starts to peel if I don't travel.
In LottaCULTURE, I share South Africanisms and memories that have become more important to me now that I'm thousands of miles away from my homeland.  I may weep while blogging these.
Our home is in Colorado.  Our hearts are in Africa.  We are trying to bloom as best we can, where we've been planted.  Each day is a gift.  Each experience should be remembered.  That is why I blog.
Thanks for allowing me to share.
Traci.
DROP ME A LINE.